Eye of the Flyer, a division of Chatterbox Entertainment, Inc. has partnered with CardRatings for our coverage of credit card products. Eye of the Flyer and CardRatings may receive a commission from card issuers. Opinions, reviews, analyses & recommendations are the author's alone, and have not been reviewed, endorsed or approved by any of these entities.
Settle in, my friend. We're about to visit some dark places. But hopefully our travels these next few minutes will help someone take a vacation or other trip that creates some happiness or great memories.
A Death in the Family
I called a good friend the other day.
"What are you up to?" I asked him.
"Going to a funeral," he said.
Ugh.
He explained a longtime family friend passed away. I expressed my condolences and offered to call him back.
"No," he said. "Because while I have you, let me ask you something. My friend died with zillions of SkyMiles. Is there any way his kids can use them?"
My answer: "Yes and no."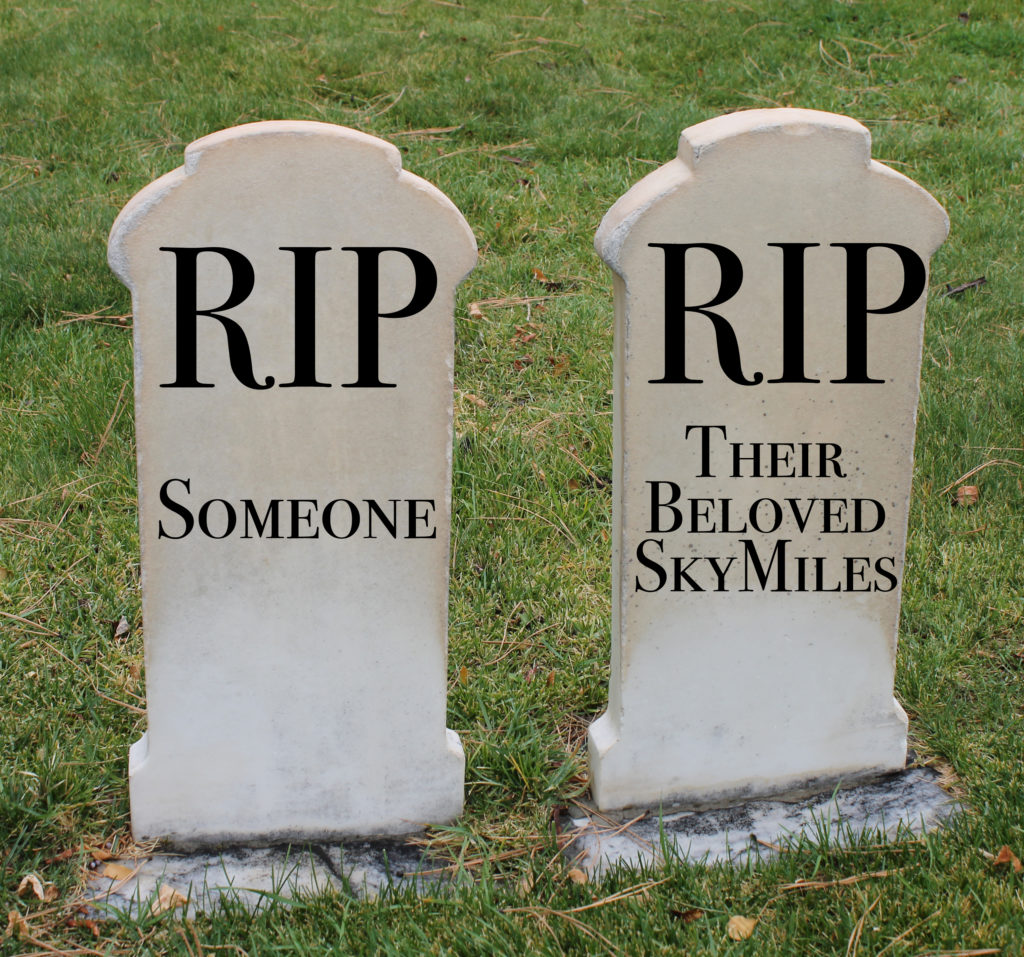 We Call Them "DieMiles" for a Reason
As René has bluntly stated, "Your SkyMiles don't expire — until you do."  When someone dies, so do their SkyMiles. They can't legally be transferred to another account.
Delta says:
Miles are not the property of any Member. Except as specifically authorized in the Membership Guide and Program Rules or otherwise in writing by an officer of Delta, miles may not be sold, attached, seized, levied upon, pledged, or transferred under any circumstances, including, without limitation, by operation of law, upon death, or in connection with any domestic relations dispute and/or legal proceeding.
In other words: SkyMiles points belong to Delta. You earn and use them at their pleasure.
And that's not unique to them. No person owns loyalty program points. Hotel, airline, car rental, credit card point programs — you name it. The points belong to the loyalty program. (I know several people affected by The Great Amex Shutdown of 2021. Some of their accounts held millions of points — until Amex seized them back.)
So you can't legally bequeath your SkyMiles to anyone. (Disclaimer: I'm not a lawyer — although I worked for someone who played an attorney on television.)
Will all of those SkyMiles go to waste? Years of flying (and maybe some Delta Amex Card spending) down the drain?
Not necessarily.
Prepare for the Inevitable
Let's say you want your family to enjoy your SkyMiles account (and other loyalty programs) when you die.
Someone trustworthy will need access to your accounts. René suggests putting together a spreadsheet like this one with account names, logins, and passwords. While you're at, I'd put in writing an agreement that you explicitly give them permission to access your accounts in the event of your passing. Maybe get it notarized if you can.
This might make things easier when the difficult time arrives.
But if you don't, hopefully a person in your family or a close friend has access to your email account — and can reset your Delta account password.
Use Those SkyMiles ASAP.
Delta won't close a deceased person's SkyMiles account until they know the person died. Instruct your family members to not alert Delta about your death.
But when time permits (and many of us know all too well that things get very busy when a close friend or family member dies) here are a couple of fast, easy way to liquidate SkyMiles.
Purchase a Trip
If you die with any SkyMiles in your account, you want family and maybe some friends to enjoy a trip or several. Right?
So as soon as reasonably possible after your death, they should book a Delta ticket with your SkyMiles.
They can book an award ticket in their name — and use your miles to the purchase. My hesitation, though, is if they have to cancel the trip — especially if it's booked in haste — is that the miles might be refunded to your account. And by the time they want to rebook, Delta might've gotten word about your death. And the miles are just like you: kaput.
A better option might be to book Pay With Miles tickets (assuming you were a Delta Amex holder. That has its own complications we'll address in a second.) Why? They can book Pay With Miles tickets for some specific trip they don't plan on taking, just to burn the SkyMiles ASAP. Then cancel the reservation and have Delta issue a flight credit to their SkyMiles account. A Pay With Miles entire value (SkyMiles and any cash balance) is credited to their account as cash toward a future trip. So that means they'll earn not just MQM but also MQD!
Redeem for Gift Cards
Delta gift cards are once again available in the SkyMiles marketplace. Cards are offered in denominations of $50, $100, $250, and $500.
The redemption value isn't fantastic — but not necessarily horrible. Especially when we're talking about your SkyMiles that could disappear any day (because you're dead, of course, and Delta will shut down your account ASAP).
A $50 Delta digital gift card can be had for 56,000 SkyMiles (which is basically $56). Physical gift cards are more expensive. (Of course they are.)
Kinda stinks, yeah. But the trade-off here is that your family can get the electronic gift cards in a jiffy. Plus, gift cards don't expire and are treated like cash. Again, your family will enjoy MQM and MQD because of kind, generous (insert your name here).
Redeem for Merchandise
The SkyMiles Marketplace also sells various products (Apple technology, pet items, exercise equipment, etc). So that's certainly another avenue to pursue.
Delta Amex Cardholders: Beware
Here's where things get tricky.
This thread on FlyerTalk implies that American Express alerts Delta about any death notifications it receives.
So if you're a Delta Amex member, tell your family to use your miles as soon as possible after your death. That assumes, of course, that you hold a Delta Amex Card. (Knowing my family, they'll be on their phones and booking trips during my funeral. And I'm fine with that!)
This post suggests that it takes a couple of months for the Social Security Administration to update its "Death Master File." (That sounds like some bad heavy metal band.) So figure your family has several weeks to book a trip, compliments of you and your generosity.
Two Caveats
Let's address a couple of important things.
First, it might be worth proactively shutting down or modifying credit card and other banking accounts ASAP after a death — in order to prevent identity theft. (I'm not a banker or financial advisor. I don't think I've worked for anyone who played one on television or in the movies.)
On that subject, I'm not encouraging anyone to "grave rob" someone else's points/miles/certificates, etc. Or any other personal data.
Final Approach
Delta reserves the right to close your SkyMiles account when you die. And your miles/points might disappear before any one has a chance to use them.
But with some careful planning and action, your survivors can enjoy your SkyMiles when you're gone. Leaving a legacy of travel certainly is something positive that can come out of a dark situation.
Eye of the Flyer, a division of Chatterbox Entertainment, Inc. has partnered with CardRatings for our coverage of credit card products. Eye of the Flyer and CardRatings may receive a commission from card issuers. Opinions, reviews, analyses & recommendations are the author's alone, and have not been reviewed, endorsed or approved by any of these entities.


Responses are not provided or commissioned by the bank advertiser. Responses have not been reviewed, approved or otherwise endorsed by the bank advertiser. It is not the bank advertiser's responsibility to ensure all posts and/or questions are answered.