Eye of the Flyer, a division of Chatterbox Entertainment, Inc. has partnered with CardRatings for our coverage of credit card products. Eye of the Flyer and CardRatings may receive a commission from card issuers. Opinions, reviews, analyses & recommendations are the author's alone, and have not been reviewed, endorsed or approved by any of these entities. As an Amazon Associate I earn from qualifying purchases.



Ah, love is in the air. Maybe you be will be, too — traveling to a romantic destination this weekend to celebrate Valentine's Day.
Let's assume you have hotels and transportation booked. But romantic, thoughtful surprises can make any couple's trip even more special.
What if your heart is in the right place but simple yet sensitive ideas aren't exactly your specialty — especially this close to Valentine's Day?
Don't panic.
Here are seven fairly easy, last-minute ideas that may help. And even if they don't work for you, maybe they'll trigger some inspiration — and generate some great ideas of your own. 
Go First Class
Would your Valentine's Date love a surprise upgrade from coach to first class? Check with your airline to see if there are any upgrade offers.

Sometimes you can buy up to first class with money or using points/miles. (These offers sometimes appear in the airline's app or on your flight's seating chart. You can also inquire with check-in or gate agents at the airport.)
Be Suite with Your Sweety
The same concept applies to your lodging accommodations. Contact your hotel. Maybe there are suites or some other room upgrades available.
A quick caveat here: don't get your hopes. Some people book suites in advance (especially as part of Valentine's packages) so there may not be any available. Plus, hotels know people love getting away during Valentine's Day weekend; don't be surprised if upgrade prices are expensive.
Worst case scenario: you spend a few minutes on the phone and are back where you started.
Hide and Find
Here's something sweet, easy, and potentially inexpensive.
Leave greeting cards or small gifts in some unexpected places. Maybe slip a greeting card into your honey's luggage they'll check or carry on bag. Leave a special gift on the hotel room nightstand when they're out of the bedroom. If they use the lavatory during your plane ride, have something waiting on their seat when they return.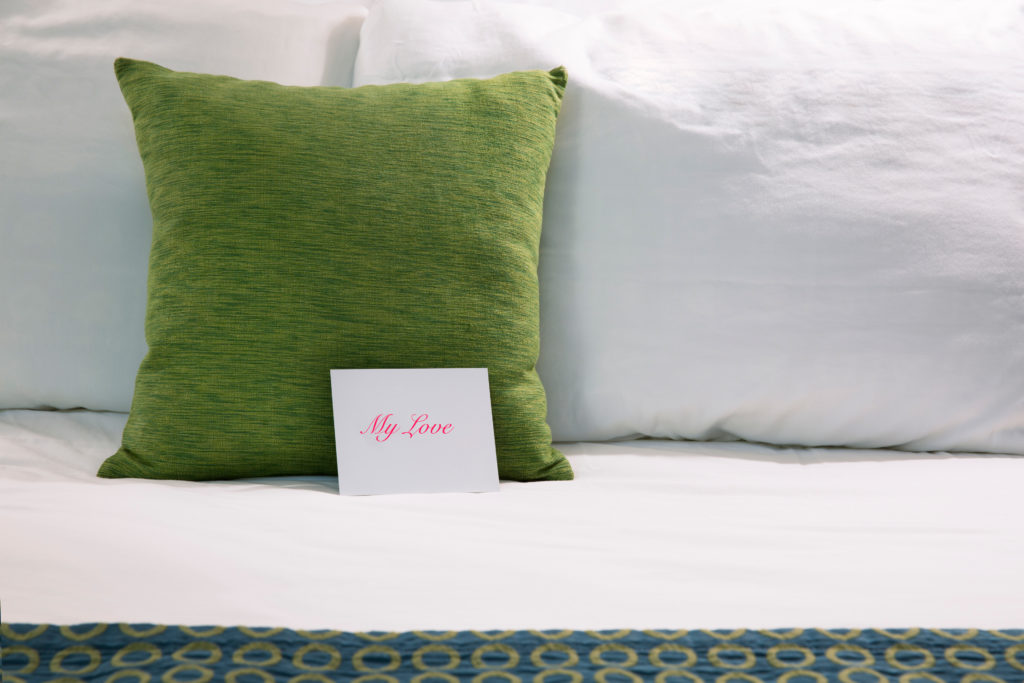 You may want some disinfecting wipes to clean their seat if you're gifting a keepsake or special memento. Be creative and have fun!
Special Delivery
Consider sending something to your hotel before you arrive. Maybe flowers, perhaps a sweet treat, or maybe a special present.
Just make sure to address it to yourself, indicate when you're arriving, and send it to the care of the hotel.
For example, "Chris Carley, Guest Arriving 2/11" then "c/o Hotel Fantastic, 1234 Eye of the Flyer Avenue…" They'll hold it for you at the front desk or deliver it to your room after you check-in.
If you're staying in a pre-assigned room such as a specific suite, call and ask the hotel to deliver it to your room prior to check-in.
Or call the hotel, ask to speak with the front desk, and see if they'll pre-assign your room. Then request they bring the special delivery to your room.
For a request like this, get the name of the person with whom you speak.
Why?
First, this will come in handy in case there are any issues.
Secondly, this is one of two people you should thank (and tip) for their help. The other is the person who physically delivered the item(s) to your room.
I know flowers are kind of the Valentine's Day go-to gift. But you probably won't travel home with them. Like, what will you do: pack the flowers? So maybe go with chocolates, sweets, or something that will survive your trip home — or can be consumed on the ride back. Or jewelry, clothing, etc.
That's the Spirit!
Does your true love enjoy a special wine, beer, or liquor? Consider bringing it. (Provided you're checking bags, of course.) This can make for a fun, in-room cocktail party for two while getting ready to go out or a quiet nightcap. (Or both.)
If you and your companion use the same suitcase, find a clandestine time to pack the secret hooch. In a pinch: just before you leave, pull a "Whoops! Forgot something!" If they ask you what's missing, simply tell them the truth: a surprise.
Remember this vital tool: a travel corkscrew (this is one I personally use and recommend). And keep your glass bottles safe! There are plenty of glass protectors designed for travel. My wife and I love Hiltmark's WineSafe two-pack, which I wrote about here.
Those products are available on Amazon. And there still may be time for delivery before your trip — especially if you belong to Amazon Prime and order now. Not a Prime member? Take advantage of a free trial by visiting this page.
Host a Watch Party – for Two
Mrs. Carley and I have been together for nearly 20 years. (One of our first trips together was a Valentine's weekend in La Jolla, California.) We have an almost-five-year-old daughter.
During those rare occasions we have a hotel night to ourselves, can you guess what we love doing?
Getting caught up on our favorite TV shows without interruption.
So hot, right?
Honestly, we love it. And binge-watching TV shows is one of our favorite activities to do together. We love talking about the shows, discussing the actors (she worked in casting once upon a time), guessing what's next in the storylines, and all that.
You probably noticed most hotel rooms have smart TVs with HDMI and USB ports. We bring our Roku Streaming Stick and plug it into the hotel TV.
The same principle applies to devices such as Fire Stick and Apple TV. They generally feature the same apps such as Netflix, Prime Video, Hulu, Disney+, Apple TV+, Peacock, etc.
Personally, I prefer the Roku and Fire Stick because they're more compact and cost-effective than Apple TV.
We understand this probably sounds boring to some couples (especially those who haven't been together very long). But others may enjoy it.
Or watch some TV during downtime in the afternoon before your romantic evening.
Plus, the Roku and Apple TV have "cast" capabilities allowing you to play content from an Apple device to your streaming device. So, if you're watching something *ahem* interesting and want to put it on a bigger screen…
The Coupon Book
This idea takes a hospitality industry classic and combines it with a grade school "Remember when…?"
Some hotels and resorts — especially properties with casinos — generally provide coupon books to guests. (You usually have to ask for them.) Think buy-one-(drink or meal)-get-one-free coupons, free dessert with the purchase of two dinner mains, etc.
When I was in elementary school, some of my teachers made us create coupon books for our parents. Our folks could redeem the coupons for certain "promotions." Some of them were cute. Stuff like "Free Hugs. Or "Unlimited Snuggles for an Hour." Others were not as fun — but always appreciated by my parents. Think "Clean My Room Without Complaining" or "Be Nice to My Sibling for a Day." (Ugh, the worst.)
But now that you're an adult, coupons can be more creative and fun — for everyone.
Think of activities like "Free 5-Minute Shoulder Rub" or "You Pick The Movie Next Weekend" or "I'll Turn Off My Electronic Devices for Two Hours and Do Whatever You Want." (You laugh. But it can be more difficult than you think. But that depends on what activity the recipient chooses 😉 ).
Of course, coupon offers can range from lighthearted, Hallmark movie, innocent fun to "Are you sure that's legal here?"
Keep this in mind: Don't offer something the recipient won't enjoy or is out of their comfort zone. (Read: it's not about you.) Also, offer activities you can actually fulfill. Like, don't say, "I'll give you a massage for an hour!" Unless you're a trained massage therapist, you'll be tired after, like, ten minutes. Trust me on this.
Final Approach
Valentine's Day falls on Monday, February 14, this year. But some couples are taking advantage of the weekend to get out of town and enjoy a romantic trip.
If you want to spice things up a bit or throw in a few surprises, I hope our ideas help.
And if you have any other ideas you wish to share, please leave them in the below Comments section! Happy Valentine's Day!
"So Which Credit Cards Should I Get to Earn Me All These Point and Miles!"
There are a TON of credit cards out there. But each person is different. You might not want a hotel credit card. Or an airline card. Maybe you're better off with points that can be transferred to hotel or airline points (yep, that's a thing). And maybe you want flexibility — points that can be used for statement credit, cash back, gift cards, or other options.
Don't stress. Help is on the way.
Our credit card partner, CardRatings, can help point you to the best cards for your goals, financial situation, and credit score. Just answer a couple of simple questions below — then see what they recommend for YOU!
Eye of the Flyer, a division of Chatterbox Entertainment, Inc. has partnered with CardRatings for our coverage of credit card products. Eye of the Flyer and CardRatings may receive a commission from card issuers. Opinions, reviews, analyses & recommendations are the author's alone, and have not been reviewed, endorsed or approved by any of these entities. As an Amazon Associate I earn from qualifying purchases.


Responses are not provided or commissioned by the bank advertiser. Responses have not been reviewed, approved or otherwise endorsed by the bank advertiser. It is not the bank advertiser's responsibility to ensure all posts and/or questions are answered.